A sump pump might not be the first thing that comes to mind when you think about home improvements, but when it comes to protecting your basement from water damage, it's a crucial investment. Sump pumps play a significant role in keeping your basement dry and preventing potential disasters. In this article, we'll explore the reasons why you should have a sump pump in your basement, the benefits it offers, and how it contributes to the overall well-being of your home.
The Importance of Sump Pumps:
Preventing Basement Flooding: One of the primary and most critical roles of a sump pump is to prevent basement flooding. When heavy rains or rapid snowmelt occur, water can easily infiltrate your basement through cracks in the foundation or basement walls. Without a sump pump, this water can accumulate, leading to severe flooding. The sump pump acts as a vigilant sentinel, swiftly removing excess water from the sump pit and ensuring that it never has the chance to pool in your basement. This proactive approach is the first line of defense in safeguarding your home against the devastating effects of basement flooding.

Water Damage Prevention: Beyond the immediate threat of flooding, basement water can cause extensive damage to your property. Water can seep into walls, floors, and even structural components of your home, leading to costly repairs. It can ruin personal belongings and furnishings, causing significant financial and emotional distress. The presence of a sump pump greatly reduces the risk of water-related destruction, thereby preserving your investment in your home and personal belongings.
Mold and Mildew Prevention: Excess moisture in your basement is not only a threat to your property but also to the health of your family. Damp environments in the basement can create a breeding ground for mold and mildew, which pose a serious health hazard. Mold spores can become airborne and lead to respiratory issues, allergies, and other health problems. Sump pumps play a vital role in using excessive moisture and maintaining a dry environment, reducing the likelihood of these harmful substances flourishing. By using backup sump pumps and keeping your basement dry, you are also promoting a healthier indoor environment for you and your loved ones.
Protection of Foundation: The structural integrity of your home's foundation is vital for the overall stability of your property. Water infiltration can cause the foundation to weaken, crack, or even shift, leading to costly foundation repairs. By preventing excess moisture and water from accumulating in the basement, a sump pump helps to preserve the strength and stability of your home's foundation. This not only protects your property but also ensures the safety of everyone living in it.
Reduced Insurance Premiums: Many insurance companies offer reduced premiums for homeowners who have sump pumps installed. This incentive is a recognition of the reduced risk of water damage claims when a sump pump is in place. By investing in a sump pump, you not only protect your home when water rises but also potentially save on your homeowners' insurance premiums, making it a financially savvy choice in the long term.
How Sump Pumps Work:
Understanding the inner workings of a sump pump is crucial to appreciating its effectiveness in protecting your basement. Sump pumps are relatively simple devices to install, but they play a vital role in maintaining a dry and safe home.
Sump Pit Placement: A sump pump is typically installed in a sump pit, a specially designed hole in your basement floor. The sump pit is strategically located in the lowest point of your basement, allowing water to naturally flow into it.
Float Switch Activation: When water enters the sump pit, it triggers a float switch, which is a device that operates much like a float in a toilet tank. As the water level rises, the float switch rises with it, eventually reaching a critical point. Once this point is reached, the float switch activates the sump pump.
Pump Operation: The activated sump pump then springs into action. There are two main types of sump pumps: submersible and pedestal. Submersible pumps are placed underwater in the sump pit, whereas pedestal pumps are positioned above the pit. Submersible pumps tend to be quieter but are typically more expensive, while pedestal pumps are generally more affordable but noisier.

Submersible pumps are fully submerged in water and are sealed to prevent electrical issues. They are known for their efficiency and quieter operation.
Pedestal pumps, while noisier, have the advantage of being easier to access for maintenance and repairs.

Water Discharge: The primary function of the sump pump is to remove the water from the sump pit. Once activated, the pump's impeller (a rotating, fan-like device) begins to spin. This action draws water from the pit and forces it through a discharge pipe. The discharge pipe typically leads the water away from your home's foundation and out to a designated drainage area, such as a storm sewer, a dry well, or a spot in your yard where water can safely dissipate.
Automatic Shut-Off: After the sump pump has removed the water and the float switch senses that the water level has dropped to a safe point, it automatically turns off the pump. This automated process ensures that your basement remains dry without requiring constant monitoring.
Power Source: Sump pumps are usually connected to your home's electrical system. While this allows them to work efficiently during most situations, it's important to consider a battery backup system. During severe weather events that may cause power outages, a battery backup ensures your sump pump continues to operate, maintaining basement protection even when the electricity is down.
Understanding how sump pumps work highlights their reliability and effectiveness in keeping your basement dry. Regular maintenance and testing are essential to ensure that your sump pump operates correctly when needed, offering peace of mind during heavy rains and snowmelt. Whether you choose a fully submersible pump unit or a pedestal sump pump, these devices play a vital role in safeguarding your home from water-related disasters.
Benefits of Having a Sump Pump:
Peace of Mind: Perhaps one of the most significant benefits of having a sump pump is the peace of mind it provides. Knowing that your house or basement is equipped with this proactive defense against water intrusion offers a sense of security, especially during heavy rainfalls or periods of rapid snowmelt. You can rest easy, knowing that your sump pump is diligently guarding your home against potential flooding and water damage.
Increased Home Value: A sump pump is not only an asset in terms of protection but can also increase the overall value of your home. Potential homebuyers often view the presence of a sump pump as a significant advantage. It signals that your property is well-prepared to handle water-related challenges, making it more appealing in the real estate market. As a result, the installation of a sump pump can contribute to your property's resale value.
Usable Living Space: A dry basement is more than just a storage area. With the assurance of a sump pump, you can transform your basement into a valuable and functional living space. Whether you're looking to create a home office, a playroom for your children, or an extra bedroom, the absence of water-related concerns makes it possible to utilize your basement for a wide range of purposes. This added living space not only enhances your quality of life but also increases your home's overall utility and potential resale value.
Health and Safety: Beyond property value and practicality, a sump pump significantly contributes to the health and safety of your family. A damp basement can create an environment that encourages the growth of mold and mildew, which can lead to health issues. Respiratory problems, allergies, and other health complications can result from prolonged exposure to mold spores. By maintaining a dry basement environment, a sump pump helps ensure the health and well-being of your household.
Insurance Savings: While the upfront cost of a sump pump installation is an investment, it can lead to long-term savings on your homeowners' insurance premiums. As mentioned earlier, many insurance companies offer reduced premiums for homeowners who have sump pumps installed. This reflects the reduced risk of water damage claims when a sump pump is in place. Over time, the savings on insurance costs can offset the initial expense of installing the sump pump.
Choosing the Right Sump Pump:
Selecting the appropriate sump pump for your specific needs and basement requirements is crucial to ensure its optimal performance. There are several factors to consider when a sump basin and making this decision:
1 . Type of Sump Pump: As mentioned earlier, there are two main types of sump pumps: the submersible sump pump and pedestal drain one. The choice between these two types depends on your preferences and the specifics of your basement.
Submersible Sump Pumps: These pumps are submerged in the sump pit. They are known for their efficiency, quieter operation, and a lower risk of overheating. Submersible pumps are the preferred choice when you have a deeper sump pit and need a pump that can handle higher water volumes. They are also less obtrusive as they are hidden beneath the water level.
Pedestal Sump Pumps: Pedestal pumps are positioned above the sump pit. They are more affordable but tend to be noisier. These pumps are a good choice when your sump pit is shallow and you need a pump with a smaller footprint. The advantage of a pedestal pump is that it is easier to access for maintenance and repairs.
2. Horsepower (HP) Rating: Sump pumps come in various horsepower ratings. The choice of horsepower depends on the volume of water that needs to be pumped out. A higher HP motor rating indicates a more powerful pump that can handle larger water volumes. Consider the average water inflow in your area, water pressure, and the depth of your sump pit when determining the appropriate horsepower for your sump pump.
3. Automatic vs. Manual Operation: Many modern sump pumps come with automatic features, such as float switches that activate the pump when the water level rises. Automatic pumps are convenient and require less monitoring. However, some homeowners prefer manual pumps to have more control over when the sump pump works and operates. Consider your preferences and needs when deciding between automatic and manual operation.
4. Backup Systems: It's advisable to have a backup battery system in place to ensure the sump pump functions even during power outages, which can frequently occur during heavy storms. Battery backup systems or water-powered backup sump pumps can provide this assurance, ensuring that your basement remains protected when you need it most.
5. Durability and Reliability: Look for sump pumps from reputable manufacturers known for their durability and reliability. Investing in a high-quality sump pump can save you from potential maintenance or replacement costs down the line. Read reviews, seek recommendations, and consult with professionals if necessary.
6. Maintenance Requirements: Different sump pumps may have varying maintenance needs. Some may require more frequent cleaning and servicing than others. Ensure you understand the maintenance requirements of your chosen sump pump and commit to regular upkeep to ensure its long-term functionality.
7. Budget: Your budget is also a crucial factor in choosing the right sump pump. While it's essential to invest in a reliable and efficient sump pump replacement part, it's equally important to stay within your budget. Compare prices and features to find the best sump pump that balances your financial constraints with your specific needs.
Maintenance and Care:
While most sump pumps are reliable, regular maintenance is essential to ensure they function properly when needed: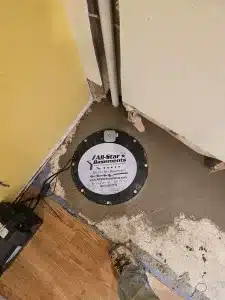 Regular Testing: Test your sump pump by pouring water into the pit to ensure it activates and discharges water correctly.
Cleaning: Clean the sump pit and the pump's components to prevent debris buildup that could hinder its operation.
Battery Backup: Consider installing a battery backup for your sump pump. This ensures it continues working even during power outages, which often occur during heavy storms.
Investing in a sump pump is a proactive measure that pays off in the long run. By preventing basement flooding, water damage, and mold growth, a sump pump safeguards the structural integrity of your home and the health of your family. It's an investment that not only protects your property but also offers peace of mind during inclement weather. Don't wait until it's too late; consider installing a sump pump in your basement to ensure your home remains safe and dry.
Contact the Professionals at All-Star Basements Today! 507-259-7776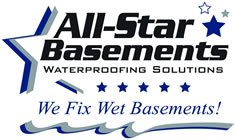 All-Star Basements is Locally Owned and Operated and based out of Rochester, Minnesota. We cover Southern Minnesota including the Twin Cities area, Western Wisconsin and parts of Northeast Iowa. Our team is committed to solving our customers' basement waterproofing, foundation repair, or crawl space needs and offering multiple solutions to choose from.
As a proud member of the Basement Health Association and the National Waterproof Members of America, we have the best products available to solve your leaky basement, seepage, or flooding issues. Our lineup also includes multiple crawl space solutions.
If you have foundation problems that need any kind of repair, we can help! We feature the nationally renowned Grip-Tite Foundation Systems, which has a long history over 90 years of fixing homeowners' foundation repair issues- from walls that are buckled, tipping or cracked and bowing.
At All-Star Basements, we are committed to providing multiple solutions to choose from to help fix any basement problem you may have. We are very proud of our Better Business Bureau A+ rating and take great pride in caring for all of our customers' needs- big or small, we do it all!