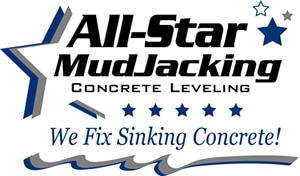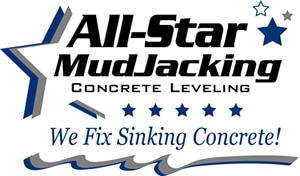 All-Star Basements, is your premier destination for professional mud jacking and concrete leveling services. We take pride in offering cost-effective solutions that not only save you money but also eliminate the hassle of concrete replacement. With our expertise in repairing cracks, sinking holes in concrete, and uneven surfaces, we can transform your residential or commercial spaces into safe, level, and visually appealing areas that stand the test of time.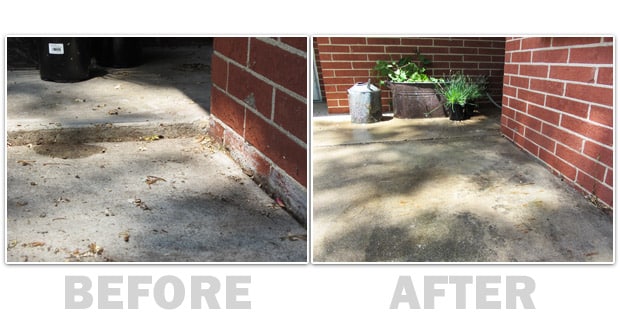 Mud jacking, also called slab jacking, can usually be done for less than half the cost of pouring a new slab of concrete. But the savings may be even greater once you factor in eliminating the costs of demolition, soil removal, and landscaping. Most projects can be completed quickly and economically with minimal disruption. Our foundation repair professionals can raise a patio in the morning and the owner can have a party on it later that night!
Mud jacking is a cost-effective alternative to replacing cracks and sinking concrete.
At All-Star Basements, we use this cement repair method to fix: sidewalks, streets, ramps, patios, driveways, floors, parking lots, and garage floors–almost anything that's concrete. It is highly effective in commercial and residential situations.
Mud jacking is quick and easy. Since the old sand and concrete are not removed, very little mess or inconvenience is involved. Surrounding sod is not damaged or removed, so there is no need to re-seed and wait for the grass to grow, and the newly-raised slabs can be put back into service as soon as the job is finished. You don't have to wait for sand or the grout to cure!
Mud jacking, also known as slab jacking, is a highly efficient and budget-friendly alternative to pouring new concrete slabs. When you consider the additional savings from eliminating the costs of demolition, removal, and landscaping, mud jacking becomes an even more attractive option. At All-Star Basements, we specialize in completing projects swiftly and economically, ensuring minimal disruption to your daily routine. In fact, our skilled foundation repair professionals can raise a patio in the morning, allowing you to host a party on it the same night. That's the kind of convenience and efficiency we deliver.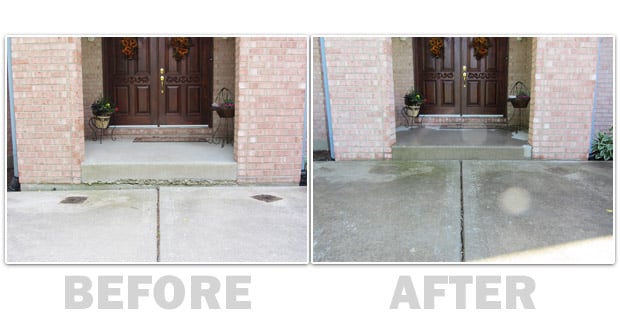 How does the concrete leveling method work?
While different, all methods for leveling concrete essentially involve the following same three steps:
Strategic holes are drilled through the concrete slabs around the affected area
Concrete lifting is next~ a leveling compound is pumped through the holes and under the slab, lifting it up
Once the area is level, the drill holes are sealed off
Concrete leveling method
Concrete leveling is a highly efficient and cost-effective approach to swiftly lift and restore sunken or settled concrete. It eliminates the hassle and expenses associated with full concrete replacement, offering a quick and long-lasting solution. Our expert team specializes in concrete lifting, ensuring that your surfaces, and structures are restored to a safe, level, and visually appealing condition within a matter of hours.
Concrete Mudjacking Process
Concrete Mudjacking is the process of pumping water, sandy loam soil, and cement mixture under a concrete slab to lift it. This mixture is called slurry. The exact slurry composition varies from company to company, and from job to job. the Mudjacking process can be the solution to many homeowners' sunken concrete problems, as well as, stabilizing slabs that have voids (but have not sunk). It may also be called concrete leveling or concrete slurry lifting.
Get a free concrete leveling estimate today!
At All-Star Basements, we believe in providing transparent and customer-centric services. We offer free estimates for all our concrete leveling projects, enabling you to make informed decisions regarding your repair needs.
If your concrete is structurally-sound, why replace it?
Replacing the whole concrete surface won't fix the soil problem that's causing the cracks and settlement. Concrete leveling is the answer.
An uneven sidewalk surface not only looks bad, but it creates a tripping hazard. If the concrete slab is still intact, don't waste your money on replacing the uneven concrete part. With MudJacking~ we can raise your sunken sidewalk surface, allowing you to walk on the sidewalk within an hour.
Our sidewalk leveling process saves you time and money.
Our driveway leveling process can eliminate unsafe pavement conditions and improve the curb appeal of your home. The life of your driveway will also be extended for years without the need for replacement.
Concrete Lifting
Sinking concrete usually appears to be uneven, cracked, and sunken. It can be a serious problem, and our concrete raising company in Rochester, MN recommends getting it fixed before it causes an accident. Both residential and commercial customers can benefit from our specialty services for concrete leveling in Rochester, MN.
To learn more about how Concrete Lifting can assist you, feel free to contact us today! We offer free estimates for our concrete surface work.
We service sidewalks, patios, driveways, concrete surfaces, pool decks, concrete surfaces, garage floors, basement floors, and commercial floors.