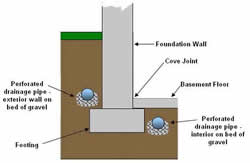 All-Star Basements Frequently Asked Questions
BASEMENT WATERPROOFING
Why does my basement leak?
Basement water leakage is caused by several factors. Mainly, the backfill soil around the foundation gets saturated by rain or snow melting resulting in seepage through the COVE JOINT (see below), the place where the basement wall meets the floor. This is caused by HYDROSTATIC PRESSURE (see below) in ground water at the level of the foundation footings. Water is forced through this joint, either under the basement floor or through the joint where the foundation wall sits on the footing. A professional inspector is trained to notice these signs and determine the exact reason you are seeing the water.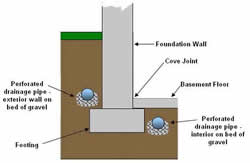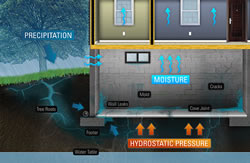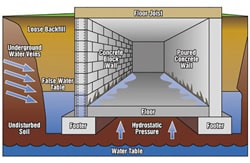 What causes a musty basement?
A musty smell in a basement is generally associated with excess moisture and humidity. This excess moisture can cause mold and microbial growth, decay and general indoor air quality concerns. A musty smell is sometimes the first sign of increased mold levels. At Keystone we can provide mold testing and general remediation to protect your home.
Is a wet basement the sign of a poorly built home?
Not necessarily. A recent study in the Washington, D.C. area found that over 86 percent of cement block constructed homes over 25 years old had moisture problems. The National Association of Realtors states that, during the life of a home, almost all will experience some form of water problem that will require professional help to correct.
How serious is my basement water problem?
Not necessarily. A recent study in the Washington, D.C. area found that over 86 percent of cement block constructed homes over 25 years old had moisture problems. The National Association of Realtors states that, during the life of a home, almost all will experience some form of water problem that will require professional help to correct.
How serious is my basement water problem?
As with most problems, early detection can save money and aggravation. Basement water issues are no exception. A leaky basement is a problem that will only get worse with time. This water will cause lower wall deterioration, cracks, bulges in walls, efflorescence, and many other concerns. Our licensed inspectors are trained to notice these signs and convey their knowledge to you in an understandable way so you know what is best for your situation.
Does a little or occasional basement leakage cause permanent problems?
Not necessarily. Occasional leakage may be caused by a combination of weather conditions and poor drainage around your house. If you have water in your basement after ordinary precautions, then it's probably time for you to call us. Hydrostatic pressure against your basement walls can cause cracking, bowing, even collapse in severe cases. Of course, any type of basement water problem impacts unfavorably upon the value of your home, to say nothing of its livability.
How can I tell where the water is coming from?
Water can enter a foundation through several different ways. The most common is at the cove area (where the basement floor and the wall meet). This, simply put, is a natural seam in which water can most easily penetrate your foundation. Another common source is hydrostatic pressure. This will cause water to penetrate through cracks in your basement walls and floor. Several other sources are common, though not as easily noticeable. Our licensed inspectors are trained to determine the exact source of your problem, and resolve the most effective solution for your unique situation.
Will an Internal Drain fix my wet basement? What does it cost to have my basement waterproofed?
It depends on the problem, what work needs to be done, and which method you choose to correct the problem. For this very reason, we offer our inspections and basement waterproofing estimates free of charge. This way, you can find out the information you need to know to take care of your home.
FOUNDATION REPAIR
I have cracked basement walls, is this serious?
Cracks in your walls can be caused by several sources, resulting in several different effects. Cracks can be a sign of settling in the foundation. However, cracks can also be caused by abnormal pressure around your foundation. A crack in a foundation wall is a sign of movement. With an average of 42 tons resting on your foundation walls, the integrity of your walls must be maintained.
Is a horizontal wall crack worse than a vertical wall crack?
Any type of foundation wall crack should be evaluated. All foundation walls will react to stress differently and should be inspected. In many cases, when a problem is solved quickly, only small measured are needed to secure the home.
What is a wall anchor and how is it installed?
Wall anchors restore the structural integrity of walls without having to rebuild them. Technicians install the Wall Anchor System by drilling a steel anchor rod through the wall into the outside earth. A steel anchor is then attached to the rod through a vertical hole dug in the ground. Finally, a steel wall plate secures the rod to the inside basement wall. Anchors can be placed in different locations along the wall and extension rods can be used to avoid patios, decks, steps, and landscaping. The entire process usually takes less than one day and since we do not rebuild the entire wall, your home and lawn are left in almost the same condition as when the technicians arrive. The Wall Anchor System is a property owner's alternative to completely removing and rebuilding basement walls that have become cracked and bowed as a result of lateral earth pressures exceeding the allowable design capacity of the wall. The U.S. Department of Housing and Urban Development (HUD) has recognized wall anchors as a viable option for stabilizing basement/foundation walls. With the Wall Anchor System, All-Star Basements provides a lifetime transferable warranty that the wall anchors will stop additional inward horizontal movement of the repaired wall(s). In many cases, with proper tension, the anchors can move walls back to their original position. In situations involving walls with extreme bowing, excavation may be required to safely and efficiently straighten the wall.
CRAWL SPACE REPAIR
What is the warranty for your installation?
Our Crawlspace Vapor Bright System is guaranteed to be free from manufacturing defects, flaws, holes and tears for a period of 25 years. The warranty is effective only as long as the equipment installed by All-Star Basements is properly maintained and the relative humidity does not exceed 55%. This warranty does not include damage resulting from abuse, moisture from condensation or sudden water intrusion from broken pipes, floods or pest damage (such as rodents chewing through the liner).
How much do installations usually cost?
Installations vary greatly depending on the size of a crawlspace and the amount of liner needed. It also depends if additional materials, including access doors and panels, sump pumps, hydro-static venting and mold and mildew treatment, are required or desired to complete a job. The best way to get an accurate estimate is to fill out your information in our FREE ESTIMATES form. Or simply call toll free 1-800-992-7942 to speak with a representative from All-Star Basements.
Why are vents in a crawlspace such a big problem?
In the past certain building codes required vents be placed in crawl spaces beneath homes during the construction phase. Since then, building officials have realized these requirements are incorrect since vents allow hot and humid summer air to flow into crawlspaces promoting condensation, wood rot and mold growth. In winter months, open vents allow cold air to enter crawlspaces and flow unrestricted into upper levels increasing heat loss and lowering energy efficiency. Thankfully, building codes are changing. In the near future a vented dirt crawl space will be a thing of the past. Keep in mind, sealing crawlspace vents is just one of two necessary steps toward improving energy efficiency and indoor air quality. The other vital step involves encapsulating a crawl space – separating your home from moisture-laden soils below.
How can closing my vents and encapsulating my crawlspace save 20-30% of my energy costs?
A vented crawl space wastes an enormous amount of energy. Since a home "breathes" (drawing air from lower levels and expelling air via upper levels), outside air is flowing constantly throughout a home that has a vented crawlspace beneath it. This outside air, which the home has "sucked" from the crawlspace cavity below, carries with it excess humidity from the moisture-laden soils of the crawlspace floor. This type of airflow increases the work "load" of a home's heating and cooling system since the air must be cooled, dehumidified and/or heated. This taxes even the most efficient heating and cooling system. By simply encapsulating a home's dirt crawlspace and closing all vents, a home can draw air from proper sources such as return air vents and exchangers instead of pulling from poor air quality cavities such as a dirt crawlspace. This is the equivalent of shutting open doors or windows and eliminating energy dollar loss. An independent study revealed that homeowners who properly fix their vented dirt crawl space can save 10% to 20% on their heating and air conditioning costs! In addition to home energy savings, a properly lined and sealed Crawl Space prevents eventual wood floor joist replacement due to rot, costly mold remediation and eventual property-value reduction.