Bowing walls? Cracks in your foundation?
We are your local Grip-Tite Foundation Systems Dealer with Wall Anchors and Carbon Fiber Straps to solve your Foundation issues. Our inspectors can diagnose your problem and design a system and options for your repair needs.
The Grip-Tite® Wall Anchor System utilizes proven engineering methods to secure and stabilize deteriorating basement walls. Bowed, cracked or leaning basement walls are a sign that something is going very wrong with the structural integrity of your property. This issue happens when hydrostatic pressure from too much water building up against the walls, or the soil that is around your property swells and exerts pressure that forces the foundation wall inward. What's more, the system works on any kind of basement wall – concrete block, clay block, poured concrete, timber, or stone.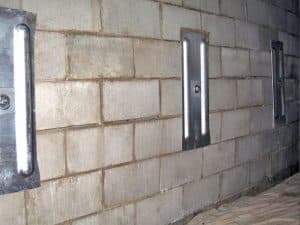 The system consists of an interior wall plate, an exterior soil anchor and a connecting steel rod to stabilize foundation walls by counteracting pressure exerted against the wall. The system is a property owner's alternative to completely removing and rebuilding basement walls that have become cracked, leaning or bowed as a result of pressures exceeding the allowable design capacity of the wall.
The Grip-Tite® Wall Anchor's are spaced in different locations along a wall and rod extenders can be used to avoid decks, flowerbeds and other landscaping.
Installing the Grip-Tite® Wall Anchor System usually takes less than one day, and the technicians will leave your home and lawn as it was before the installation. Anchors are placed in specific locations along the wall, and rod extenders can be added to avoid all decking, cement work, flower beds, and other landscaping. And because the system works with the wall and ground, structural changes to your house are unnecessary.
Whether the cracking or bowing is caused by hydrostatic pressure, expansive soil or another problem, don't risk the investment in your home by failing to address the issue.
Advantages
In most cases can straighten wall (over time) without excavation
Limited disturbance to lawn and landscape
Low-profile wall plate can be easily painted or finished over
Counteracts pressure on the wall without causing damage to structure (does not rely on the floor joists or wood framing as the reaction)
Will stabilize bowed, leaning and sheared walls
Patented product can only be installed by Manufacturer-Certified Installers
Benefits
Minimal excavation or disturbance to property, lawn or landscaping.
Installed in a day or less.
No wait can be installed year-round.
Easily installed in areas with decks, landscaping or flowerbeds.
Cost-effective ' less cost than re-building foundation wall(s).
Carbon Fiber Straps for permanent repair of bowed foundation walls.
Cost effective – no mess installation
Non obtrusive – conforms to bowed walls
Carbon fiber / Kevlar construction
Completely encapsulated in epoxy
Can be painted for smooth, clean look
10X the strength of steel
Guaranteed for the life of your home