A dry basement is a fundamental component of a healthy and functional home. Unfortunately, many homeowners neglect this critical space, leading to a host of problems like water damage, mold growth, and structural issues. Basement waterproofing is the key to preventing these issues and ensuring your home remains safe and dry. In this article, we will delve into the importance of basement waterproofing, its benefits, and the various methods available to keep your basement dry.
The Importance of Basement Waterproofing
Prevent Water Damage
One of the primary reasons to invest in basement waterproofing is to prevent water damage to your property. Basement leaks and flooding can lead to costly repairs, including damage to your foundation, walls, flooring, and personal belongings. Moisture in the basement can also affect the structural integrity of your home over time, compromising its stability.
Protect Your Health
A damp or wet basement is a breeding ground for mold and mildew, which can lead to serious health problems for you and your family. Mold spores can become airborne and circulate throughout your home, causing respiratory issues, allergies, and other health concerns. Basement waterproofing helps maintain a healthy indoor environment by preventing mold growth.
Increase Home Value
Investing in basement waterproofing not only safeguards your home but also adds value to your property. A dry, usable basement space can be an attractive selling point for potential buyers. It can also expand your living area, providing more functional space for recreation, storage, or even an additional bedroom.
Benefits of Basement Waterproofing
Long-term Cost Savings
While basement waterproofing may seem like an upfront expense, it can save you significant money in the long run. Repairing water damage, addressing mold issues, and fixing structural problems can be far more costly than preventing them through waterproofing measures.
Improved Energy Efficiency
A dry basement contributes to better energy efficiency in your home. Damp or wet basements can lead to heat loss, as moisture conducts heat more effectively than dry air. By waterproofing your basement, you create a more energy-efficient living space and lower your heating and cooling costs.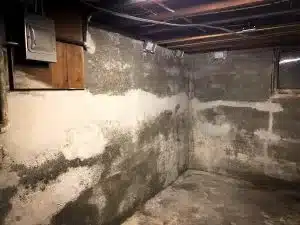 Enhanced Living Space
Many homeowners overlook the potential of their basements as usable living spaces. A waterproofed basement can be transformed into a comfortable, functional area for various purposes, such as a home office, gym, entertainment room, or additional bedroom. Waterproofing allows you to maximize your home's square footage and meet your family's needs.
Methods of Basement Waterproofing
Exterior Waterproofing
Exterior basement waterproofing involves addressing the problem from the outside of your home. It typically includes excavating the soil around your foundation to apply waterproof coatings or membranes. This method provides a strong barrier against water intrusion and is highly effective in preventing basement leaks.
Interior Waterproofing
Interior waterproofing focuses on managing water that has already penetrated the basement. Common interior waterproofing methods include the installation of drainage systems, sump pumps, and moisture-resistant wall coatings. While this approach may not prevent water from entering the basement, it effectively directs and manages any water that does.
Sealants and Coatings
Waterproof sealants and coatings are applied to the interior or exterior surfaces of your basement walls and floors. These products create a watertight barrier that prevents moisture from seeping through. Sealants and coatings are a cost-effective way to enhance the waterproofing of your basement.
French Drains and Sump Pumps
French drains are a type of interior drainage system that collects and redirects groundwater away from your basement. Sump pumps are typically installed in a pit and pump out any accumulated water, preventing it from flooding your basement. These systems work in tandem to keep your basement dry.
Basement waterproofing is not a luxury but a necessity for homeowners looking to protect their investments and maintain a healthy living environment. The benefits of basement waterproofing extend far beyond a dry basement; it saves you money, improves energy efficiency, and enhances your home's value and functionality. Whether you choose exterior or interior waterproofing methods, the key is to take proactive steps to prevent water damage, mold growth, and structural issues. By investing in basement waterproofing, you are safeguarding your home and ensuring it remains a safe, dry, and comfortable place for you and your family for years to come.
Contact the Professionals at All-Star Basements Today! 507-259-7776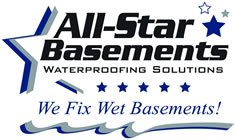 All-Star Basements is Locally Owned and Operated and based out of Rochester, Minnesota. We cover Southern Minnesota including the Twin Cities area, Western Wisconsin and parts of Northeast Iowa. Our team is committed to solving our customers' basement waterproofing, foundation repair, or crawl space needs and offering multiple solutions to choose from.
As a proud member of the Basement Health Association and the National Waterproof Members of America, we have the best products available to solve your leaky basement, seepage, or flooding issues. Our lineup also includes multiple crawl space solutions.
If you have foundation problems that need any kind of repair, we can help! We feature the nationally renowned Grip-Tite Foundation Systems, which has a long history over 90 years of fixing homeowners' foundation repair issues- from walls that are buckled, tipping or cracked and bowing.
At All-Star Basements, we are committed to providing multiple solutions to choose from to help fix any basement problem you may have. We are very proud of our Better Business Bureau A+ rating and take great pride in caring for all of our customers' needs- big or small, we do it all!