Repairing Cracked Foundations – How Quickly Do Problems With Foundations Deteriorate? 
As a homeowner, one of the most concerning issues you may face is a cracked foundation. It is natural to wonder how soon you should invest in repairing the cracks. Many homeowners tend to postpone foundation and concrete crack repair repairs, particularly when the cracks are not causing any visible leaks. The primary reason behind this hesitation is often the desire to save money. However, it is crucial to understand that foundation problems do not resolve on their own. In fact, they tend to worsen over time. The speed at which the foundation crack repair deterioration occurs depends on various factors. In this comprehensive article, we will discuss the length of time it takes for foundation problems to deteriorate, focusing on water-based issues and those related to tree roots. By understanding the process of deterioration, homeowners can make informed decisions about the timely repair of their cracked foundations.
Foundation crack problems can arise from a variety of causes, such as shifting soil, poor construction techniques, or environmental factors. Regardless of the underlying cause of fixing cracks, it is essential to recognize that foundation cracks are not merely cosmetic issues. They are symptoms of a structural problem that requires attention. Ignoring foundation cracks can have significant consequences, both for the integrity of your home and your finances.
When homeowners notice cracks in their foundation, especially if they are not actively leaking, they may be tempted to postpone repairs. After all, if the cracks are not causing major problems of immediate water intrusion or visible damage, it might seem reasonable to delay the expense of repairs. However, this approach can be risky and potentially more costly in the long run.
Foundation problems, by their very nature, tend to worsen over time. Cracks that may initially appear minor can gradually expand and deepen, leading to more severe structural issues. The speed of deterioration varies depending on several factors, including the underlying cause of the cracks, the type of soil on which the foundation is built, the climate, and the overall condition of the foundation.
Water-Based Foundation Problems
A common cause of foundation wall cracking is hydrostatic pressure, which occurs when water exerts a force against foundation walls. This phenomenon can be caused by several factors, such as excessive rainfall, poor drainage systems, or high water tables in the surrounding soil. When hydrostatic pressure builds up against foundation walls, it can cause a variety of problems, such as bowing of wall surface of the walls and
cracking.
Cracks resulting from hydrostatic pressure are a major concern for homeowners, as they can allow water to seep into the basement or crawl space. Initially, these cracks may not be actively leaking, and homeowners may underestimate the severity of the problem and fix them. However, neglecting to repair these cracks can have detrimental consequences.
If hydrostatic pressure is not promptly addressed, it will continue to exert force against the foundation walls, exacerbating the cracks and compromising the structural integrity of concrete walls and the foundation. As cracks widen, water infiltration becomes more likely, leading to moisture-related problems in the basement. Moisture can create a damp and humid environment, providing an ideal breeding ground for mold, mildew, and other fungi.
The presence of excessive moisture and mold growth in the basement can pose serious health risks to the occupants of the home. Mold spores can become airborne and cause respiratory problems, allergic reactions, and other health problems. In addition, prolonged exposure to moisture can also damage personal belongings stored in the basement, such as furniture, clothing, and important documents.
Another consequence of untreated horizontal cracks resulting from hydrostatic pressure is potential damage to the plumbing system within the foundation walls. As the horizontal cracks widen, they can disrupt or damage the pipes running through the basement walls. Damaged pipes can cause leaks, further, horizontal cracks, exacerbating the moisture problem in the basement and increasing the risk of water damage to the property.
In addition, the continued presence of water and moisture can lead to deterioration of building materials. Moisture can weaken foundation walls, making them more susceptible to cracking or shifting. This compromises the stability of the entire structure and can cause significant structural damage if major, structural problem is left unaddressed.
In addition to structural and health risks, untreated concrete crack and water foundation problems can also have financial implications. The longer the concrete cracks are neglected, the more extensive the damage and the greater the repair costs. What might initially have been a relatively simple repair of concrete crack can become a complex and costly undertaking involving extensive foundation stabilization and waterproofing measures.
To prevent these problems from worsening, it is critical to address foundation and concrete cracks caused by hydrostatic pressure in a timely manner. It is recommended that a foundation and concrete crack repair expert be consulted, as they have the expertise to assess the extent of the damage and propose appropriate solutions to fix cracks.
Foundation repair experts can employ various techniques to solve foundation problems caused by water. One of these is the installation of a foundation drainage system, which helps divert water away from the foundation. This can include installing exterior French drains, upgrading gutter and downspout systems, and applying proper grading to ensure that water flows away from the property.
Foundation problems related to tree roots 
In addition to problems caused by water, foundation and wall cracks can also be caused by the presence of tree roots near the house and foundation. Trees, while beautiful and beneficial to the environment, can pose a significant risk to the stability of a house and can crack a home's foundation when planted too close to the structure.
When trees are planted too close to the foundation wall, their roots can spread and grow under the soil surrounding the surface below the wall. As these roots spread out, they can put pressure on the surrounding surface and soil, causing it to move and destabilize. Over time, this pressure can cause foundation walls to buckle, crack or even collapse.
The impact of tree roots on foundations can be especially pronounced in regions with expansive clay soils. Clay soils tend to shrink and swell with changes in moisture content. As tree roots draw moisture from the soil during periods of drought, the soil around the foundation wall can shrink, potentially creating voids and breaches. Conversely, during periods of heavy rainfall or when tree roots draw less moisture, clay soil can expand, putting pressure on foundation walls.
Foundation cracks caused by tree roots should not be underestimated. They can compromise the structural integrity of the foundation and pose a risk to the stability of the entire house. As cracks widen, water can penetrate the foundation, leading to moisture problems in the basement or crawl space.
Moisture infiltration resulting from foundation cracks related to tree roots can cause a number of problems. It creates a favorable environment for the growth of mold and mildew, leading to potential health risks for the occupants of the home. In addition, the presence of moisture can attract pests and insects, increasing the risk of infestations within the property.
In addition, the continued pressure exerted by tree roots on loose concrete can worsen existing cracks and cause further damage to the concrete foundation. If major problems are left untreated, these problems can worsen and lead to more serious structural problems and higher repair costs.
To mitigate tree root-related foundation problems, it is critical to take proactive measures. One effective approach is to carefully plan the landscape around the foundation. When selecting trees for your property, consider their size at maturity and the potential extent of their root systems. It is generally recommended that trees be planted at a safe distance from the foundation, ensuring that their roots do not extend into the structure.
If you suspect that tree roots are causing or aggravating foundation cracks, it is advisable to consult a professional arborist or foundation repair expert. These experts can assess the situation and offer appropriate recommendations. In some cases, it may be necessary to remove or relocate trees that pose a significant risk to the foundation. However, this decision should be made in consultation with an expert to ensure that it is done correctly and with minimal impact on the health of the tree.
As for foundation crack repair, addressing cracks caused by tree roots often requires stabilizing the foundation and preventing further movement. A common method is the installation of concrete piers or shoring systems. These systems provide additional support to the house and foundation and help redistribute the weight of the structure, minimizing the impact of tree root and crack-induced movement.
In addition, sealing existing cracks and ensuring proper drainage around the foundation wall can help prevent water intrusion and moisture-related problems. By implementing these measures, homeowners can mitigate the risks associated with tree root-related foundation problems and ensure the long-term stability of their homes.
Contact a Foundation Crack Repair Expert 
When faced with foundation problems, whether they are cracks resulting from hydrostatic pressure or tree root-induced damage, it is crucial to seek the expertise of a professional foundation repair contractor. While some homeowners may consider attempting DIY repairs or delaying the process to save money, engaging a qualified home improvement expert is the best course of action to ensure the effective and long-lasting resolution of foundation issues.
Foundation repair experts possess the knowledge, skills, and experience necessary to assess the extent of the damage and develop a comprehensive repair plan. They understand the complexities of foundation systems and the underlying causes of cracks, allowing them to provide accurate diagnoses and recommend appropriate solutions.
One of the primary benefits of consulting a foundation crack repair expert is their ability to conduct a thorough inspection of the foundation. They will carefully examine the cracks, assess the structural integrity of the foundation walls, and identify any contributing factors such as soil conditions, drainage issues, or nearby trees. This in-depth evaluation enables them to determine the root cause of the problem and devise a tailored crack repair and strategy.
Furthermore, foundation repair contractors have access to specialized tools best methods and equipment that are essential for addressing foundation issues effectively. They are familiar with various repair techniques and can choose the most suitable method based on the specific circumstances of the foundation problem. This ensures that the repairs are performed correctly, minimizing the risk of further damage or recurring issues.
Engaging a foundation repair expert offers homeowners peace of mind. These professionals are licensed, insured, and bonded, providing an added layer of protection for both the homeowner and the property. By entrusting the repair process of concrete foundations to qualified experts, homeowners can have confidence in the quality of the workmanship and the longevity of the repairs.
Moreover, foundation repair contractors are well-versed in local building codes and regulations. They ensure that the repair work complies with the applicable standards, preventing any legal or compliance issues down the line. This attention to detail and adherence to regulations not only ensures the structural integrity of the foundation but also safeguards the value and marketability of the home.
In addition to their technical expertise, foundation repair experts can offer valuable advice and guidance to homeowners. They can educate homeowners about the underlying causes of foundation problems, provide recommendations for preventive measures, and offer insights on maintenance practices to preserve the foundation's integrity. This knowledge empowers homeowners to make informed decisions regarding the care and maintenance of their home's foundation.
It is important to note that the
cost of foundation repairs can vary depending on factors such as the extent of the damage, the chosen repair method, and the geographical location. While some homeowners may hesitate to contact a foundation repair expert due to concerns about the associated expenses, it is essential to consider the long-term implications of delaying or ignoring the problem.
Foundation issues that are left unaddressed can lead to more extensive damage and significantly higher repair costs in the future. By tackling the problem promptly, homeowners can potentially save money in the long run. Additionally, timely repairs help maintain the value of the property and ensure the safety and stability of the home for its occupants.
When selecting a foundation repair expert, it is advisable to do thorough research and consider several factors. Seek recommendations from trusted sources, such as friends, family, or reputable online platforms. Verify the credentials, licenses, and certifications of the contractor, and request references or examples of their past work. It is also recommended to obtain multiple quotes to compare prices and evaluate the proposed repair methods.
Contact the Professionals at All-Star Basements Today! 507-259-7776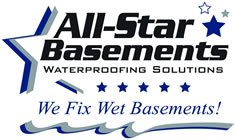 All-Star Basements is Locally Owned and Operated and based out of Rochester, Minnesota. We cover Southern Minnesota including the Twin Cities area, Western Wisconsin and parts of Northeast Iowa. Our team is committed to solving our customers' basement waterproofing, foundation repair, or crawl space needs and offering multiple solutions to choose from.
As a proud member of the Basement Health Association and the National Waterproof Members of America, we have the best products available to solve your leaky basement, seepage, or flooding issues. Our lineup also includes multiple crawl space solutions.
If you have foundation problems that need any kind of repair, we can help! We feature the nationally renowned Grip-Tite Foundation Systems, which has a long history over 90 years of fixing homeowners' foundation repair issues- from walls that are buckled, tipping or cracked and bowing.
At All-Star Basements, we are committed to providing multiple solutions to choose from to help fix any basement problem you may have. We are very proud of our Better Business Bureau A+ rating and take great pride in caring for all of our customers' needs- big or small, we do it all!