Should I Invest in Foundation Repair Before Remodeling or Vice Versa? Rochester, MN
Does your foundation show signs of damage? If you're considering having your home remodeled, you may be wondering about whether you should invest in the remodel first and then the foundation repair or vice versa. It is understandable that this can be confusing for homeowners. Many face budgetary and time constraints.
Both remodeling and foundation repair can be costly. You will want to ensure that you get the best value for your money. Below we explore how you can do just that.
How remodeling can affect the foundation?
When designing a building, architects and structural engineers design foundations to support the structure of the building and the activities that they expect to occur within the building. Remodeling results in changes to the building structure. This affects the forces acting on the foundation. For example, adding heavy cabinet to the kitchen or adding a room on top of the garage can result in increased weight on the foundation. This can result in foundation damage.
It is important to consult a structural engineer when planning a remodel to determine its impact on the foundation.
How foundation repair can damage your home
Foundation repair can result in damage to upper parts of the home. This of course depends on the extent and type of the repair. For example, repair that involves lifting the foundation can result in damage to walls, roofs, and even countertops. You may notice cracks and other visible signs of damage in your home after the repair is completed.
Foundation repair can also result in damage to plumbing and other utilities. You may even be required to make some changes to these utilities during or after the repairs.
Should you invest in Foundation Repair or Remodeling First?
While it is possible to remodel your home prior to investing in repairing your foundation, it is best to complete foundation repair first. If you remodel your home first, there is a good chance that your home will experience damage during the repair of the foundation. Cracks and other damage will cost money to repair following repair to the foundation. Your investment in remodeling could end up being a total waste of money.
If you're thinking of investing in a remodel for your home, be sure to consult all the right professionals prior to remodeling. Have a structural engineer determine the impact of the remodel on the foundation, and have a foundation repair professional inspect and repair your foundation prior to remodeling.
Contact the Professionals at All-Star Basements Today! 507-259-7776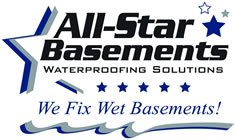 All-Star Basements is Locally Owned and Operated and based out of Rochester, Minnesota. We cover Southern Minnesota including the Twin Cities area, Western Wisconsin and parts of Northeast Iowa. Our team is committed to solving our customers' basement waterproofing, foundation repair, or crawl space needs and offering multiple solutions to choose from.
As a proud member of the Basement Health Association and the National Waterproof Members of America, we have the best products available to solve your leaky basement, seepage, or flooding issues. Our lineup also includes multiple crawl space solutions.
If you have foundation problems that need any kind of repair, we can help! We feature the nationally renowned Grip-Tite Foundation Systems, which has a long history over 90 years of fixing homeowners' foundation repair issues- from walls that are buckled, tipping or cracked and bowing.
At All-Star Basements, we are committed to providing multiple solutions to choose from to help fix any basement problem you may have. We are very proud of our Better Business Bureau A+ rating and take great pride in caring for all of our customers' needs- big or small, we do it all!