Reasons Why Foundation Inspection Is Important
Are there cracks in your foundation? Have you noticed a musty smell in your basement? The first step to having your foundation repaired is a foundation inspection. Foundation inspections can also benefit your home in other ways. Here are some reasons why a foundation inspection by All-Star Basements is so important.
1. You can prevent further damage from occurring in your home
Have you noticed signs and symptoms of foundation damage such as cracks in basement walls? Not attending to foundation problems as soon as possible
can result in extensive foundation damage. Foundation damage can also cause problems in the upper levels of the home. You may experience cracks around door frames, buckling floors, uneven floors, cracked kitchen counters and much more. Not only will it be more expensive to repair extensive damage to your foundation but you will also have to spend more on repairing other parts of your home.
Foundation inspection can help you identify problems early. You will be able to apply a solution that will prevent further damage.
2. Inspection will keep your family safe
The structural integrity of your home's foundation is crucial for the safety of your family. If the foundation is compromised, your family's safety will also be compromised. Failing to repair
the foundation will expose your family to various dangers including compromised indoor air quality and dangers relating to structural issues.
Foundation inspection will help to identify issues early. You can then find a solution to the problem and ensure the structural integrity of your home is restored.
3. You can avoid throwing money to the wind
Are you in the market for a home? Purchasing a home is a big investment. You want to be sure that you're making a good investment. Foundation inspection can help you do just that.
Failing to inspect the foundation of the property you want to purchase could result in you wasting your money. You may end up buying a property with extensive foundation damage which could be very expensive to repair. Foundation inspection can help you avoid making a bad purchase. It can also help you negotiate for a better price. You can get the house at a lower price if you identify foundation issues that need to be attended to.
If you're in need of foundation inspection services, get in touch with the All-Star Basements team. We'd be happy to help you identify foundation issues and offer solutions for your long-term benefit.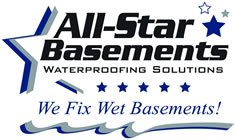 All-Star Basements is Locally Owned and Operated and based out of Rochester, Minnesota. We cover Southern Minnesota including the Twin Cities area, Western Wisconsin and parts of Northeast Iowa. Our team is committed to solving our customers' basement waterproofing, foundation repair, or crawl space needs and offering multiple solutions to choose from.
As a proud member of the Basement Health Association and the National Waterproof Members of America, we have the best products available to solve your leaky basement, seepage, or flooding issues. Our lineup also includes multiple crawl space solutions.
If you have foundation problems that need any kind of repair, we can help! We feature the nationally renowned Grip-Tite Foundation Systems, which has a long history over 90 years of fixing homeowners' foundation repair issues- from walls that are buckled, tipping or cracked and bowing.
At All-Star Basements, we are committed to providing multiple solutions to choose from to help fix any basement problem you may have. We are very proud of our Better Business Bureau A+ rating and take great pride in caring for all of our customers' needs- big or small, we do it all!