3 Key Benefits of Installing a Sump Pump with a Battery Backup System Rochester, MN
Flooding causes notable damage to homes in the United States and other places across the world. Even if your home is not located in a flood plain or an area that is prone to flooding, the house could be affected by heavy rains. During heavy storms, surface runoff can flow into your home at a higher rate.
Another problem that you are likely to encounter during heavy storms is power outages. It is estimated that if your home has no power for just five minutes or your sump pump fails for the same amount of time, your home will be filled with more than 90 gallons of floodwater. If the flooding continues for more than one hour, your home will be filled with more than 1000 gallons of water, which will cause notable damage.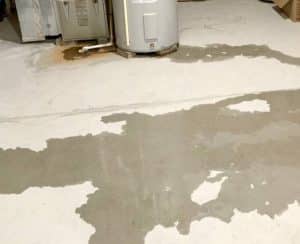 Fungus and mold are also likely to grow in your home within 24-48 hours after an event of flooding.
You can avoid the problem of flooding in your home by installing a sump pump with a battery backup system. Here is what you need to know about a sump pump with a battery backup system and the key benefits that you will get by installing this equipment.
What Is a Sump Pump with a Battery Backup System?
A sump pump with a battery backup system is a system for backing up your home's sump pump. The equipment is installed next to your primary sump pump. The battery backup sump pump has a float switch that is set higher than that of the primary pump, so it will detect when the primary pump is not functioning and turn on automatically.
The battery backup sump pump also detects when AC power fails and switches on automatically.
Benefits of a Sump Pump with a Battery Backup System
Offers Protection Against Water Damage
When you install a sump pump with a battery backup system, you significantly reduce the risk of water flooding your home and causing damage.
Has Its Own Power Source and Turns on Automatically
A sump pump with a battery backup system has its own battery system and turns on automatically when there is a power outage or when the main sump pump fails. These features enable the device to function and pump out water even when there is no AC power or when the primary sump pump malfunctions.
Provides Extra Help for the Sump Pump
Heavy rains or snow melt can increase the amount of water reaching the main sump pump and overwhelm it. Sump pumps with battery backup systems detect when the water level is too high and turn automatically, thus helping the primary sump pump.
Contact The Professionals At All-Star Basement Waterproofing! 507-259-7776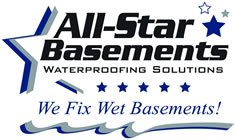 All-Star Basements is Locally Owned and Operated and based out of Rochester, Minnesota. We cover Southern Minnesota including the Twin Cities area, Western Wisconsin and parts of Northeast Iowa. Our team is committed to solving our customers' basement waterproofing, foundation repair, or crawl space needs and offering multiple solutions to choose from.
As a proud member of the Basement Health Association and the National Waterproof Members of America, we have the best products available to solve your leaky basement, seepage, or flooding issues. Our lineup also includes multiple crawl space solutions.
If you have foundation problems that need any kind of repair, we can help! We feature the nationally renowned Grip-Tite Foundation Systems, which has a long history over 90 years of fixing homeowners' foundation repair issues- from walls that are buckled, tipping or cracked and bowing.
At All-Star Basements, we are committed to providing multiple solutions to choose from to help fix any basement problem you may have. We are very proud of our Better Business Bureau A+ rating and take great pride in caring for all of our customers' needs- big or small, we do it all!