Top Tips When Choosing Basement Systems
Do you have a flooded basement? If you do, you're probably searching for the best solution to keep the water out so that
you won't have to experience the flooding ever again. However, there are so many basement systems to choose from. It can be difficult deciding which one you should go with. 
Each system has something unique to offer. The following are some factors you can use to base your decision.
1. Reviews 
Have your neighbors had their basements repaired? What basement systems did they have installed? Check with neighbors and friends in the area. You should also check online reviews on third party websites. This is one of the best ways to find out whether a system is effective or not. 
2. Warranties
It is extremely important to ensure the basement systems you're considering have warranties. This ensures that the contractor will take responsibility for any expenses for work that has to be done on the foundation as a result of the system's failure. 
Check the warranty offered to see what exactly is covered and for how long. 
If you're being offered a lifetime warranty for the system, be sure to check how long the contractor has been in business. You can trust an experienced contractor who has been in business for decades to fulfill a lifetime warranty. 
3. Pricing
If it's so cheap you can't believe it, you probably shouldn't. Dirt cheap systems are often offered by contractors that have had
to cut some corners in order to be able to make a profit despite cutting down on the price. 
Go for systems that are reasonably priced. You can know a reasonable price by comparing quotations from different service providers. 
4. The contractors level of experience 
You'll want to choose a system offered by a contractor that is experienced. They should be able to provide you with references for their work to show just how well the system has worked for other clients. 
It is good practice to call see their references to have a first-hand account of the effectiveness of the system. Never rely solely on the account of the contractor. 
There are different systems available in the market. The system you choose should provide you with long term benefits. It should be able to meet your specific requirements and preferences. 
Be sure to talk to an experienced and licensed contractor to find out what options are available for your foundation.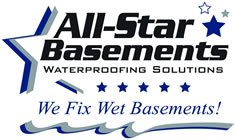 All-Star Basements is Locally Owned and Operated and based out of Rochester, Minnesota. We cover Southern Minnesota including the Twin Cities area, Western Wisconsin and parts of Northeast Iowa. Our team is committed to solving our customers' basement waterproofing, foundation repair, or crawl space needs and offering multiple solutions to choose from.
As a proud member of the Basement Health Association and the National Waterproof Members of America, we have the best products available to solve your leaky basement, seepage, or flooding issues. Our lineup also includes multiple crawl space solutions.
If you have foundation problems that need any kind of repair, we can help! We feature the nationally renowned Grip-Tite Foundation Systems, which has a long history over 90 years of fixing homeowners' foundation repair issues- from walls that are buckled, tipping or cracked and bowing.
At All-Star Basements, we are committed to providing multiple solutions to choose from to help fix any basement problem you may have. We are very proud of our Better Business Bureau A+ rating and take great pride in caring for all of our customers' needs- big or small, we do it all!