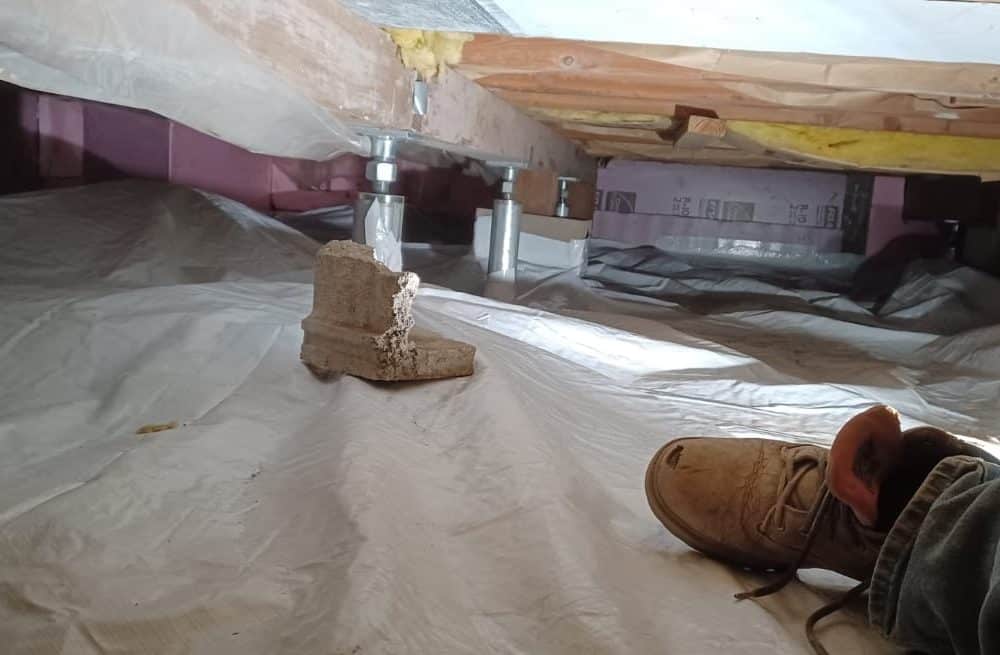 The Significance of Crawlspace Waterproofing: Ensuring a Dry and Healthy Home Austin, MN
Maintaining a secure and healthy home involves paying meticulous attention to every nook and cranny, including the often neglected crawlspace. Despite being concealed from view, the crawlspace plays a crucial role in supporting the structural integrity of your
home. Unfortunately, many homeowners tend to overlook this vital space, unaware of the potential risks it poses. However, investing in crawlspace waterproofing can yield substantial benefits, not only in terms of protecting your property but also for your overall well-being. In this comprehensive article, we will delve into the major advantages of crawlspace waterproofing and shed light on why it stands as a prudent and worthwhile investment for every homeowner.
1. Enhanced Structural Integrity and Durability
Maintaining a solid foundation is the cornerstone of any well-built home, and the crawlspace plays a critical role in supporting this foundation. A wet or damp crawlspace can pose a significant threat to the structural integrity and durability of your property, leading to a cascade of issues that can affect the entire house.
When moisture infiltrates the crawlspace, it begins to attack the foundation directly. Wood, concrete, and other building materials used in the construction of the foundation are vulnerable to water damage. Over time, this moisture exposure can cause wood rot, compromising the strength and load-bearing capacity of the foundation. As a result, the stability of the entire structure becomes compromised, leading to uneven settling, cracks in walls and ceilings, and potentially dangerous structural failures.
Moreover, a damp crawlspace can foster an environment conducive to the growth of mold and mildew. As these microorganisms take hold, they can further weaken the materials in the crawlspace, exacerbating the risk of structural damage. The presence of mold and mildew in crawl space can also degrade the indoor air quality of your home, posing health risks to occupants, particularly those with allergies or respiratory conditions.
By investing in crawlspace waterproofing, you take a proactive approach to safeguarding the structural integrity and durability of your home. The installation of a reliable moisture barrier, such as a high-quality vapor barrier, effectively seals the crawlspace off from external sources of water, preventing water intrusion and moisture buildup. This barrier not only protects the foundation from water damage but also acts as a defense against the harmful effects of mold and mildew.
Crawlspace waterproofing also addresses issues of poor drainage that may contribute to water accumulation in the crawlspace. By implementing proper drainage solutions, such as installing sump pumps or French drains installed, excess water is efficiently channeled away from the crawlspace, reducing the risk of flooding and associated damage.
In addition to preventing structural damage, crawlspace waterproofing can extend the lifespan of other components of your home. By keeping the space above the crawlspace dry, you protect floor joists, beams, and insulation materials from water-related deterioration, ultimately preserving the overall strength and longevity of the building.
A waterproofed crawlspace also helps to maintain the structural integrity of adjoining walls. When moisture seeps into the walls from the crawlspace, it can weaken the framing, lead to drywall damage, and create unsightly stains and peeling paint on interior surfaces. Preventing this water intrusion ensures the walls remain stable, attractive, and free from water-related issues.
Furthermore, crawlspace waterproofing can be particularly beneficial for homes situated in areas prone to heavy rainfall, flooding, or high groundwater levels. These locations are more susceptible to crawlspace moisture problems, making the space waterproofing an essential measure to protect the structural foundation and overall stability of the home.
2. Mold and Mildew Prevention
Mold and mildew are persistent and unwelcome houseguests that can wreak havoc on both your property and your health. These microscopic fungi thrive in damp, dark environments, making the crawlspace an ideal breeding ground if left unaddressed. Preventing mold and mildew growth through crawlspace waterproofing is essential for maintaining a healthy and safe living environment.
Health Impacts:

The presence of mold and mildew in the crawlspace can have serious health implications for the occupants of the home. Mold spores are known to trigger allergies, asthma, and respiratory issues, leading to symptoms like coughing, sneezing, and wheezing. Prolonged mold exposure can worsen these conditions and may even contribute to the development of respiratory diseases. By waterproofing the crawlspace, you create a dry environment that inhibits mold and

mildew growth

, thus significantly reducing the risk of harmful airborne spores infiltrating your living spaces.

Allergen Reduction:

Mold and mildew release tiny spores into the air, which can become airborne and circulate throughout the crawl spaces of your home. These spores act as allergens, potentially triggering allergic reactions in sensitive individuals. Waterproofing the crawlspace ensures that these allergens have no chance to spread and contaminate the indoor air, promoting a healthier environment for everyone in the household.

Protection of Belongings:

A damp crawlspace not only jeopardizes the structural integrity of your home but can also affect the belongings you store in this space. Items such as seasonal decorations, sentimental belongings, and extra supplies can be vulnerable to mold growth and damage in a humid environment. Waterproofing the crawlspace provides a protective shield for your stored items, preserving their condition and extending their lifespan.

Odor Elimination:

The musty and unpleasant odors associated with mold and mildew growth are not only a nuisance but also an indication of potential indoor air quality issues. Waterproofing the basement and crawlspace prevents the damp conditions that lead to mold-related odors, keeping the air in your home fresh and pleasant.

Enhanced Air Quality:

Mold and mildew growth in the crawlspace can introduce harmful particles into the air you breathe inside your home. By preventing their growth through not waterproofing your crawl space, you effectively eliminate this source of indoor air pollution, leading to improved air quality and a healthier living environment.

Protection of HVAC System:

A damp crawlspace can contribute to increased humidity levels in your home, putting additional strain on your HVAC system. When the air conditioner or heater has to work harder to combat humidity, it can result in higher energy consumption and potentially shorten the lifespan of the HVAC equipment. By keeping the crawlspace dry, you alleviate this strain and promote the longevity and efficiency of your HVAC system.

Long-Term Savings:

Investing in crawlspace waterproofing for mold and mildew prevention can lead to substantial cost savings in the long run. You avoid expensive mold remediation and repair bills that may arise from unchecked mold growth and its associated damages. Additionally, a dry and well-maintained crawlspace is less likely to experience structural issues, ultimately reducing the need for major repairs in the future.
3. Pest Control and Prevention
A damp and poorly maintained crawlspace can become an attractive haven for a variety of pests, ranging from termites and rodents to insects and other critters. These unwanted invaders can wreak havoc on your home's structure, insulation, and electrical systems, leading to extensive damage and costly repairs. By prioritizing pest control and prevention through crawlspace waterproofing, you create an inhospitable environment for pests, safeguarding your property and ensuring a comfortable living space for your family.
Termite Infestation Prevention:

Termites are notorious for their ability to silently and steadily cause extensive damage to wooden structures. A damp crawlspace provides the perfect conditions for termites to thrive and multiply, posing a significant risk to the structural integrity of your home. Waterproofing the crawlspace acts as a barrier, depriving termites of the moisture they require to survive and discouraging them from infesting your property. By preventing termite infestations, you avoid the potential devastation they can bring to your home's very foundation walls and wooden elements.

Rodent Deterrence

: Rodents, such as rats and mice, are attracted to moist environments with easy access to food and shelter. A damp crawlspace can provide an ideal habitat for rodents to nest and breed. Once inside your home, rodents can chew through electrical wires, insulation, and other materials, causing property damage and fire hazards. Waterproofing the crawlspace denies rodents the conditions they seek, making it less likely for them to invade your home. By keeping rodents at bay, you protect both your property and your family from potential health risks associated with rodent infestations.

Insect Repellent

: Insects are drawn to damp and dark spaces, and an untreated crawlspace can become a breeding ground for various insect species. Ants, cockroaches, spiders, and other pests can find their way into your home through cracks and gaps in the crawlspace, leading to unwanted encounters inside your living areas. Waterproofing the crawlspace and sealing off potential entry points acts as a repellent, deterring insects from venturing into your home. This proactive measure helps maintain a pest-free living environment and reduces the need for frequent insect extermination treatments.

Long-Term Cost Savings:

While investing in crawlspace waterproofing incurs an upfront cost, it can lead to substantial long-term savings. By preventing pest infestations, crawl space waterproofing companies you avoid the expenses associated with pest control services and potential repairs caused by pest damage. Termites, rodents, and other pests can cause extensive destruction over time, leading to costly repairs that could have been prevented through proper crawlspace maintenance.

Peace of Mind:

Knowing that dirt floor of your crawlspace is protected against pests offers peace of mind for homeowners. You can rest assured that your home is shielded from the potential damage and health risks associated with pest infestations. A dry and well-maintained crawlspace contributes to a sense of security and comfort within your living space.
4. Energy Efficiency
Energy efficiency is a critical aspect of modern homeownership, as it not only helps reduce utility bills but also contributes to environmental conservation. Surprisingly, the condition and waterproof amount of your crawlspace can significantly impact the energy efficiency of your entire home. A properly waterproofed crawlspace can play a pivotal role in optimizing your home's energy consumption and reducing your carbon footprint.
Humidity Control:

A damp crawlspace contributes to increased humidity levels inside your home, especially during warmer months. As a result, your air conditioning system has to work harder to maintain a comfortable indoor climate. By waterproofing the crawlspace and eliminating excess moisture, you create a drier environment that reduces indoor humidity levels. This, in turn, eases the workload on your HVAC system, leading to more efficient cooling and reduced energy consumption.

Sealing Air Leaks:

A crawlspace that lacks proper sealing and insulation can be a source of air leaks, allowing conditioned air to escape and outdoor air to infiltrate. During both the hot and cold seasons, this can lead to temperature imbalances and force your heating and cooling systems to compensate for the loss. Waterproofing the crawlspace provides an opportunity to identify and seal air leaks, improving your home's overall energy efficiency and ensuring that conditioned air remains inside.

Reduced Heating Costs: During the colder months, an unsealed crawlspace can result in cold air infiltrating your home, leading to higher heating demands. When your heating system has to work harder to combat the cold air seeping in from the crawlspace, it consumes more energy, increasing your heating costs. Waterproofing the crawlspace and addressing insulation issues can help retain heat within your home, resulting in lower heating expenses.
Enhanced Cooling Efficiency:

In hot climates, a waterproofed crawlspace contributes to better cooling efficiency. By preventing moisture buildup and reducing indoor humidity, your air conditioning system can cool your home more effectively, requiring less energy to maintain comfortable temperatures. This not only leads to cost savings but also prolongs the lifespan of your air conditioning unit.

Energy Savings in the Long Run:

The energy savings resulting from crawlspace waterproofing can accumulate over time. By optimizing your HVAC system's performance and minimizing energy waste, you benefit from reduced monthly utility bills. The cost savings can offset the initial investment in crawl space waterproofing and offer a substantial return on your investment over the years.
In conclusion, crawlspace waterproofing is a vital investment that offers numerous benefits for homeowners. From preserving the structural integrity of your home to improving indoor air quality, preventing pest infestations, enhancing energy efficiency, and increasing property value, the advantages of crawlspace waterproofing are far-reaching. By prioritizing the health and safety of your home, you not only create a comfortable living environment but also safeguard your property's value in the long run. The significance of crawlspace waterproofing should not be underestimated, and taking the necessary steps to ensure a dry and healthy home will pay off for years to come. Embrace crawlspace waterproofing today and experience the peace of mind that comes with knowing your home is well-protected from potential threats.